Web Site Design and Development for Pinedale, Wyoming and Teton County Idaho
Web Design
Web Development
Ecommerce/Shopping Carts
Interactive/Java Script/Animation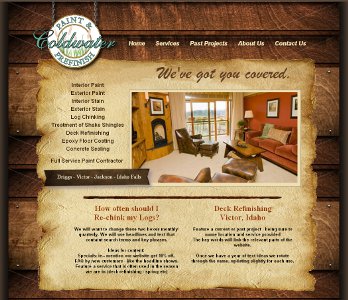 Featured Website Project
Coldwater Paint & Prefinish, Victor, Idaho
Web Design and Development
Coldwater Paint and Prefinish has been a client of ours for years. When we told them we had branched into Web Design & Development they quickly signed on to become one of our first customers.
We started off with a face to face meeting where we nailed down basics about their web site. From "Target Audience" to "Website Goals", CWP knew what they wanted. We helped them focus on the important aspects and they immediately got to work providing us with text, content and pictures.
We designed and developed a rustic style site that showcased their content. We took www.coldwaterpaint.com from being a black-listed website that had been hacked to a full functioning, search engine accepted website.